A wonderful example of natural Tanzanite a magnificent gem (rare founded only in deposits in Tanzania) with a strong pleochroism and a beautiful color between violet and blue very charming and attractive with no visible inclusions, very bright and flashy.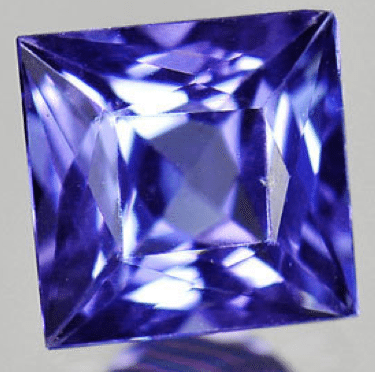 A very beautiful and rare gem, discovered and launched by the famous jeweler Tiffany, who gave the name of Tanzanite according to the place of occurrence, Tanzania precisely.
This Tanzanite loose gemstone has a princess square cut good VVS clarity and has been treated only by a gentle heat.
Perfect for your gems collection or for an exclusive jewel like a ring or a pendant.
Material: 100% Natural Tanzanite
Quantity: 1
Color: Purplish Blue
Weight: 0.58 ct
Dimensions: 4.7 X 4.7 x 3.1  mm.
Cut: Princess square cut
Clarity: IF/VVS (Eye clean)
Luster: Very Good
Origin: Tanzania
Hardness: 7
Treatment:  Heated only
Available: NO (Sold)
Compile the form below to buy this gemstone