This is a fine example of a 100% natural sapphire loose gemstone, with an ununsual bright pale pink color with good saturation, this pink Ceylon sapphire was mined in Sri-Lanka and faceted in a fancy oval cut.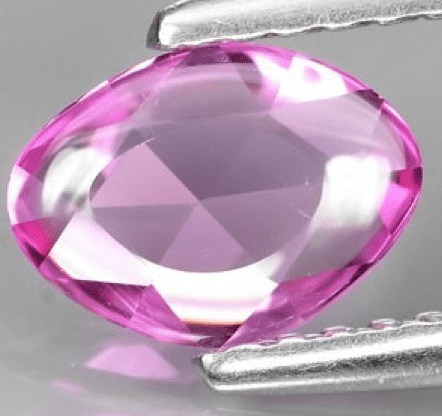 This beautiful natural sapphire has a really good clarity and transparency internally flawless, very rare to find in a pink sapphire, it is totally natural and no treatment was used to improve the properties of this gemstone.
This is of course a very rare pink sapphire, because is hard to find with good clarity and no treatment. So this Ceylon sapphire is also a perfect gem for your collection or to be set in an unique jewel, proposed at a very affordable price.
Feel free to ask any information about this or other gemstone in our website, by compiling the form below with your data.
Material: 100% Natural Sapphire
Quantity: 1
Color: Pink
Weight: 0.62 ct
Dimensions: 7.4 X 5.4 X 1.8  mm.
Cut: Oval faceted cut
Clarity: IF (Internally Flawless)
Luster: Very Good
Origin: Ceylon
Hardness: 9
Treatment: None (No heat)
Available: Yes
Compile the form below to buy this gemstone