This is a sparkling multicolor natural Topaz gemstone, called Mystic Topaz, this gemstone is  earth mined in Brazil, eye clean and flawless with a beautiful play of color, that make it very attractive. This gemstone was treated by a process called coating, a typical and accepted treatment for Mystic Topaz that is usually stable and secure. This Mystic Topaz has a 2.19 carats weight and was cut in  an oval shape that will show the awesome color play that make it more sparkling and attractive. You can check its description below the images.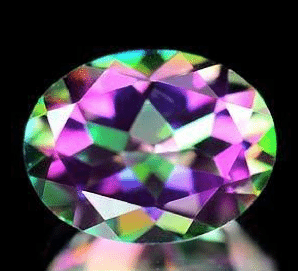 Buy this Topaz gemstone compiling the form below!
This is an awesome 100% Natural and genuine earth mined Multicolor Mystic Topaz (NO Glass, NO Synthetic, NO Cubic Zirconia), with a very nice saturation, luster and clarity.
Perfect for your gemstone collection or for an elegant jewel like a pendant or a ring.
Material: 100% Natural Topaz
Quantity: 1
Color: Multicolor
Weight: 2.19 ct
Dimensions: 9.1x7x4.6Mm
Cut: Oval faceted cut
Clarity: IF (No Inclusion)
Luster: Good
Origin: Brazil
Hardness: 8
Treatment: Coated
Available: Yes
Compile the form below to buy this gemstone