This is a rare natural dark golden yellow citrine gemstone, earth mined in Brazil, with a rare and beautiful 6 rays star effect also called asterism.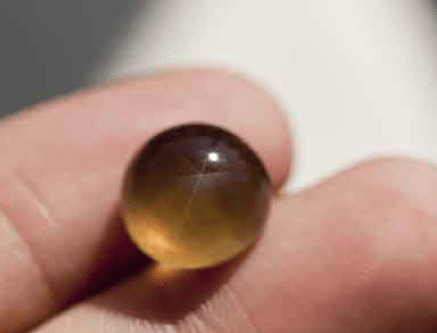 This gemstone was unheated and untreated, has a good color hue and saturation, without visible inclusions and with a nice luster.
This incredible 6 rays star citrine gemstone has a 9.10 carats weight and was cut into a cabochon round shape to give more contrast to the asterism effect in this citrine that make it rare and very attractive.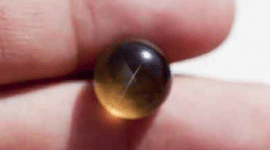 Asterism effect is caused by the reflection of light from minute oriented and aligned needle-like inclusions in the some rare gems. When light pass through these crystals, its exhibit a star-shaped figure, which called "asterism". This figure is produced by reflected or transmitted light.
This is an awesome 100% Natural and genuine earth mined 6 rays star citrine gemstone (NO Glass, NO Synthetic, NO Cubic Zirconia), with a very nice saturation, luster and clarity.
Perfect for your gemstone collection or for an elegant jewel like a stunning ring.
You can check its size and more information in the description below the images.
Buy this beautiful natural 6 rays star citrine gemstone compiling the form below!
Material: 100% Natural Citrine
Quantity: 1
Color: Dark Golden Yellow
Weight: 9.10 ct
Dimensions: 12.1mm diameter x 8.8mm
Cut: Cabochon
Clarity: Traslucent
Luster: Good
Origin: Brazil
Hardness: 7
Treatment: Unheated/Untreated
Available: Yes
Compile the form below to buy this gemstone