This is a very attractive natural multicolor Opal gemstone, earth mined in Ethiopia in Africa, this gemstone is very beautiful with its incredible play of color. This gemstone is unheated and untreated and 100% natural earth minedwith a 0.29 carat weight and a traditional oval shape and cabochon cut that show is incredible play of color that make it very attractive. You can check its description below the images like size, origin, color.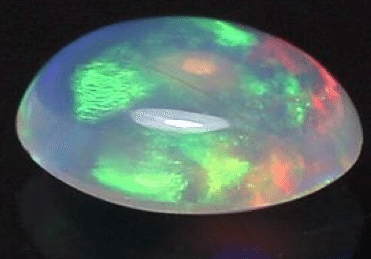 This is an awesome 100% Natural and genuine earth mined multicolor ethiopian Opal ( NO Synthetic, NO doublet), with a white and transparent base and a very nice play of color  that include green, orange, red and blue.
Perfect for your gemstone collection or for an elegant jewel like a pendant or a ring.
Material: 100% Natural Opal
Quantity: 1
Color: Multicolor
Weight: 0.29 ct
Dimensions: 6.0 X 4.3 X 2.4 mm.
Cut: Oval cabochon
Clarity: IF / Traslucent
Luster: Very Good
Origin: Ethiopia in Africa
Hardness: 5/6
Treatment: NO
Available: NO (Sold)
Compile the form below to buy this gemstone