We offer a small amount of 10 natural purple Amethyst from Brazil, with an awesome purple color saturation and hue, with an unusual heart shape faceted cut, perfect for a romantic gift to your partner.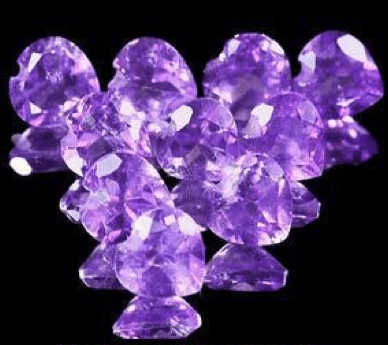 You can choose to buy one of these natural purple Amethyst, or you can decide to buy all 10 pieces to make a prestigious jewel or a parure, like pendant, ring plus earrings.
These natural purple Amethyst heart shaped are eye clean with very few little inclusion invisible to naked eye, this mean that your gift will be very appreciated.
This lot of natural purple Amethyst, like all the loose gemstone showed in our website, are 100% natural gemstones mined from earth around the world.
These gemstones are difficult to photograph so you can expect to get a very beautyful gemstone, much better than how it look on images.
Material: 100% Natural Amethyst
Quantity: 10
Color: Purple
Weight: 3.67 ct (0.30 ct each one)
Dimensions: 5.1 × 5 x 3.1 Mm.
Cut: Heart faceted shape
Clarity: VVS (Very Very small inclusion)
Luster:  Good
Origin: Brazil
Hardness: 7
Treatment: Unheated/Untreated
Available: Yes
Compile the form below to buy this gemstone