Beautiful pair of untreated and unheated Sapphire, with a nice greenish blue color, with good clarity and a nice cut. This pair of natural sapphires come from Tanzania mines in Africa, they are almost eye clean with good clarity and sparkle that make them very attractive and desirable.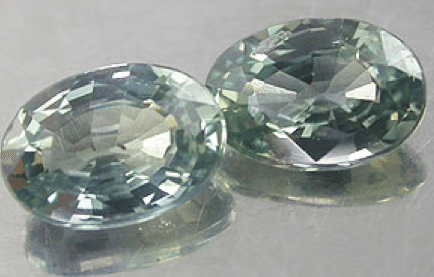 This couple of sapphires that comes in a common and calibrated oval faceted cut are perfect for a gemstone collector or to make a precious jewel like a sparkling pair of earrings.
These greenish blue 100% natural and unheated sapphires are eye clean and without visible inclusions and are untreated and also unheated, so no material was added.
This pair of beautiful and genuine sapphires (NO Synthetic, NO Cubic Zirconia, NO glass) are earth mined in Tanzania, and they show a beautiful luster, clarity and an awesome greenish blue color.
Material: 100% Natural Sapphire
Quantity: 2
Color: Greenish Blue
Weight: 1.05 ct (total weight)
Dimensions: 6.0 X 4.0  mm.
Cut: Oval faceted cut
Clarity: VSI (Very Small Inclusion)
Luster: Very Good
Origin: Tanzania
Hardness: 9
Treatment: None – NO Heat
Available: NO (SOLD)
Compile the form below to buy this gemstone