Another great natural Apatite loose gemstone for sale, with an incredible cobalt blue color, nice clarity and sparkling.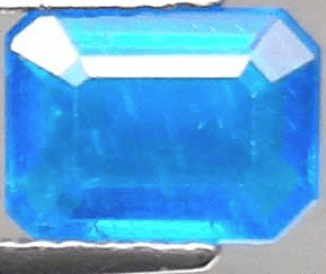 This natural blue Apatite gemstone cut in an octagon step cut and rectangular shape exhibit an incredible cobalt blue color with a nice saturation and good hue, that make this Apatite very attractive and unusual.
This Apatite gemstone come from Madagascar in Africa, is not enhanched in any way also not heated, has some little inclusion in the crystal, tha don't comprimise the beauty of this rare gemstone, perfect to be set in a pendant jewel or for your gemstone collection.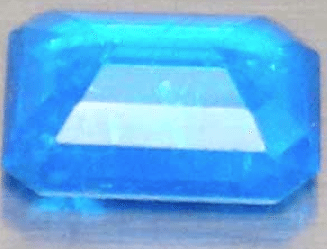 This is a 100% natural Apatite gemstone, this is not a cubic zirconia, glass or a synthetic gemstone!
Material: 100% Natural Apatite
Quantity: 1
Color: Cobalt Blue
Weight: 1.39 ct
Dimensions: 8.2 × 6.2 x 3.3 Mm.
Cut: Octagon step cut
Clarity: VSI (Very Small Inclusion)
Luster: Very Good
Origin: Madagascar
Hardness: 5
Treatment: None (Unheated)
Available: Yes
Compile the form below to buy this gemstone