Awesome natural Moonstone loose gemstone with a nice white color, cut in a square cabochon shape with a size of 9 millimeters for a total of 3.94 carat weight.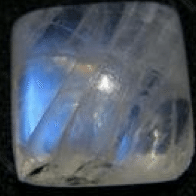 This beautiful natural  Moonstone loose gemstone show the beautiful effect called Adularescence, tipical in the best moonstone speciment, that exibit an attractive blue flash light when the gemstone is under the light.
This Moonstone is traslucent with some inclusion typical for this kind of gemstone, is a beautiful speciment especially for its color and its adularescence effect that make this gemstone really precious and good to be set in a jewel like a ring or a pendant.
Material: 100% Natural Moonstone
Quantity: 1
Color: White base with Blue Adularescence
Weight: 3.94 ct
Dimensions: 9.0 X 9.0 mm.
Cut: Square cabochon
Clarity: Traslucent
Luster: Very Good
Origin: Africa
Hardness: 6
Treatment: NO (UnHeated)
Available: Yes
Compile the form below to buy this gemstone