This is a natural Ruby gemstone, with an intense and bright red color, with nice luster and clarity and very small inclusion almost invisible to naked eye, with an elegant emerald step cut with octagon shape.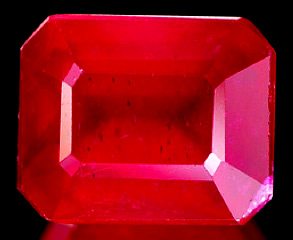 This red ruby gemstone is natural and it was earth mined in Africa, this is not a synthetic, glass, doublet or any other similar fake gemstones.
This particular gemstone is treated with heat and with the common fracture filled method, a common technique to improve clarity and color in ruby gemstones.
This kind of ruby gemstone is very popular in jewelry, you can find this kind of treated ruby set in gold ring or pendant, because it is a nice stone with very good clarity and color.
Material: 100% Natural Ruby (Red corundum)
Quantity: 1
Color: Blood Red
Weight: 2.42 ct
Dimensions: 7.7 X 6.3 X 4.5  mm.
Cut: Octagon step cut
Clarity: VSI
Luster: Very Good
Origin: Madagascar
Hardness: 9
Treatment: Heated (Lead -glass filled)
Available: Yes
Compile the form below to buy this gemstone