Buy now this natural Sapphire with a typical oval faceted cut and a deep Naby blue color with a 2.26 carat weight and a size of 8.6 × 6.9 millimeters, this loose gemstone was treated by termodiffusion a common and accepted treatment for commercial sapphire.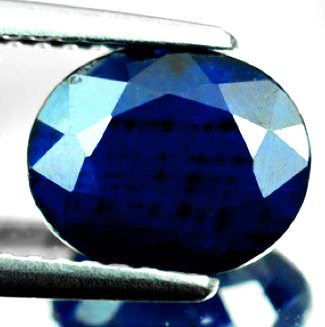 This is a traslucent sapphire treated with the common fracture filled method, that improve the color and the clarity of this kind of gemstone. This sapphire can be used in basic jewelry like silver ring or silver pendant, offered at affordable price.
This is a natural sapphire that comes from Madagascar mine in Africa, don't miss it!
Material: 100% Natural Sapphires
Quantity: 1
Color: Deep Midnight Blue
Weight: 2.26 ct
Dimensions: 8.6 x 6.9 x 4.1 Mm.
Cut: Oval
Clarity: Traslucent
Luster: Nice
Origin: Madagascar
Hardness: 9
Treatment: Diffusion
Available: No (Sold)
Compile the form below to buy this gemstone