Buy online from our gemstone boutique this nice natural blue Sapphire with a calibrated oval cut and well proportioned size of 8×6 millimeters, this loose gemstone has a nice deep midnight blue color.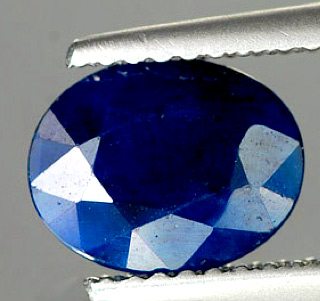 This sapphire loose gemstone can be a perfect pair with this other sapphire really similar, with same color, clarity and size.
This sapphire is not completely transparent, this sapphire is a traslucent stone, its color is very deep, but it has a good size and nice cut. This sapphire is treated with diffusion (fracture filled method) a common treatment for economic corundum material.
If you want to study gemology you need to have one of this treated sapphire to recognize it, and spot some typical inclusion.
This kind of sapphire can also be a nice stone to set in an affordable jewel like a silver ring or in a pair of earrings if you buy also the other sapphire really similar to this one to get a perfect pair.
Material: 100% Natural Sapphires
Quantity: 1
Color: Deep Midnight Blue
Weight: 1.54 ct
Dimensions: 8 x 6 Mm.
Cut: Oval
Clarity: Traslucent
Luster: Nice
Origin: Madagascar
Hardness: 9
Treatment: Diffusion
Available: NO
Price: SOLD
Compile the form below to buy this gemstone