This is an unusual mexican fire Opal with a strong orangish yellow color, 100% natural with some little dendritic inclusions near the girdle and in the bottom of the pavillion.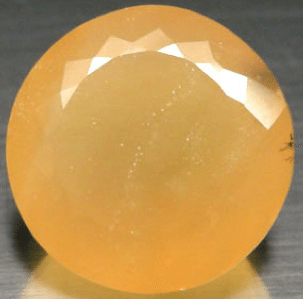 This gemstone is traslucent, almost opaque and it doesn't show any play of colors or opalescence, but it is a big stone and beautiful speciment.
This yellowish  mexican fire Opal has a 10.60 carat weight and is diameter is over 15 millimeters so it size is very impressive, it was not heated or treated to improve its beauty.
This is a big heavy natural Opal faceted in an unusual round brilliant cut that help to show the nice color of this uncommon mexican fire Opal.
This is an awesome 100% Natural and genuine earth mined mexican Opal ( NO Synthetic, NO doublet).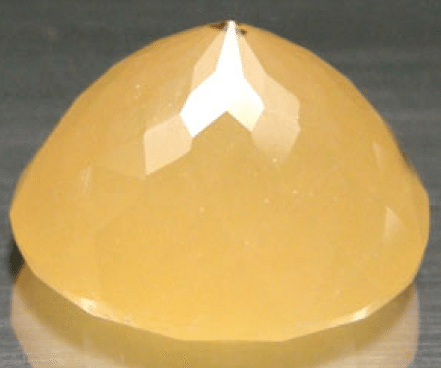 This Opal is 100% natural and it is no treated in anyway.
Material: 100% Natural Opal
Quantity: 1
Color: Orangish Yellow
Weight: 10.60 ct
Dimensions: 15.5 x 10.3 mm.
Cut: Round brilliant cut
Clarity: Traslucent/Opaque
Luster:  Good
Origin: Mexico
Hardness: 5/6
Treatment: NO
Available: Yes
Compile the form below to buy this gemstone