Nice opal boulder mined in Australia with oval shape and flat cabochon cut that increase the multicolor opalescence in this particular gemstone that show a nice green flash play of color.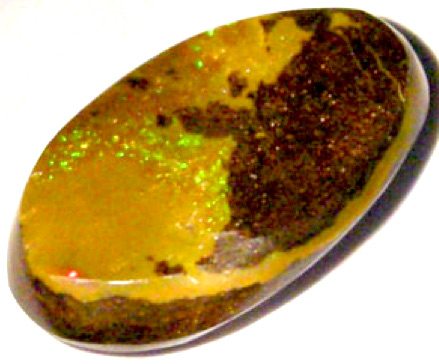 This opal boulder is opaque, has a yellowish brown color and some beautiful green flash light on the surface.
This is a natural not treated australian opal boulder, this is not a doublet a synthetic or a man made opal.
Material: 100% Natural Opal
Quantity: 1
Color:  Yellowish Brown
Weight: 2.52 ct
Dimensions: 13,0 x 8,1 x 2,4 mm.
Cut: Oval flat cabochon
Clarity: Opaque
Luster:  Good
Origin: Australia
Hardness: 5/6
Treatment: NO
Available: NO (Sold)
Compile the form below to buy this gemstone